Welcome to the Otway Ranges Environment Network
The Otway Ranges Environment Network (OREN) comprises individuals and groups who care about the native forests in the Otway region of south western Victoria. These are the forests that grow along the hills near the Great Ocean Road and behind the tourist towns of Apollo Bay and Lorne (shown as green on the map below. Also see Otway overlays for use with Google Earth)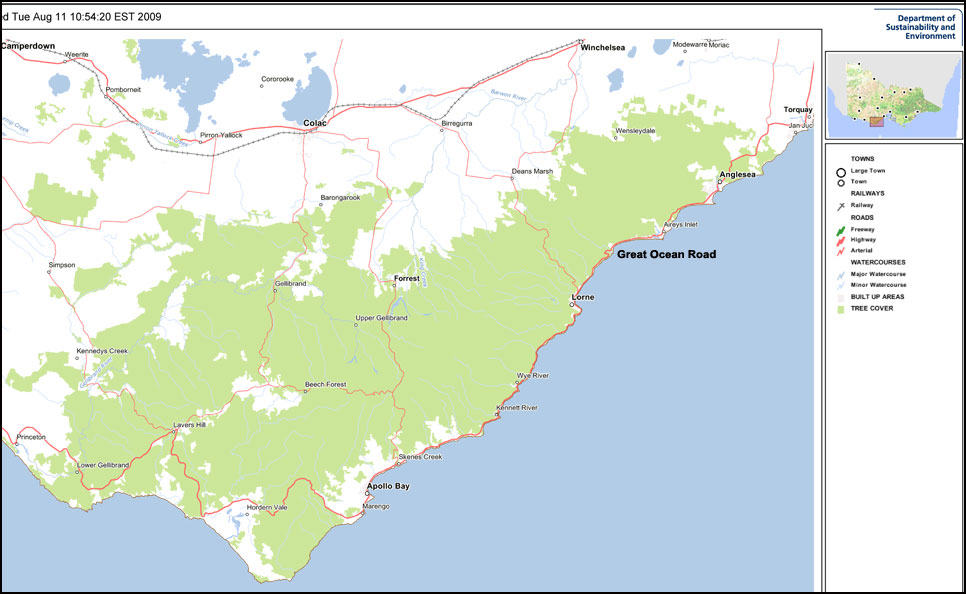 OREN formed in 1996 with the aim of stopping the practice of clearfell logging biodiverse native forest (on public land) in the Otways. After an intense eight year campaign followed by a six year logging phase out period, this outcome was achieved. The OREN/Otway campaign was strongly based on the politics of non violent direct action (see 2 page pdf) .
Thanks to the work of conservationists and Otway residents, working though the OREN "network", all clearfell logging of native forest on public land in the Otways came to an end in 2008.
Clearfell logging native forests for woodchips is now illegal in the Otways.
See overview of OREN/Otways forest campaign.
See list of organisations that worked with OREN.
See political campaign update for more details.
| | |
| --- | --- |
| Membership and Donations | Join OREN, or make a donation to support our work. |
| Help out | Help out in the campaign to stop forest logging |
| News | See OREN's latest media releases and news items. |
| Contacts | OREN Contact information |
Copyright (c) by Otway Ranges Environment Network Inc.
This website and its contents, including pages and documents, are subject to copyright under the laws of Australia and, through international treaties, other countries. Unless otherwise indicated, the copyright to all original material on the site is owned by the Otway Ranges Environment Network (OREN). Nonexclusive rights are granted to copy, duplicate, or print this material as long as this copyright notice is preserved and a link to www.oren.org.au is displayed.
Disclaimer
This website is operated by the Otway Ranges Environment Network Inc. (OREN)
The information contained within this site has been compiled by the Otway Ranges Environment Network Inc. and is subject to change without notice. OREN has used its best endeavours to ensure that this information is correct and current at the time of publication but take no responsibility for any error, omission or defect therein.
To the extent permitted by law, the Otway Ranges Environment Network Inc. (OREN) and its employees, agents, members and consultants exclude all liability for any loss or damage (including indirect, special or consequential loss or damage) arising from the use of, or reliance on, the information whether or not caused by any negligent act or omission. If any law prohibits the exclusion of such liability, OREN limits its liability to the extent permitted by law, to the resupply of the information.
Readers should rely on their own enquiries in making decisions touching their own or any other person's interest.
Third Party Sites
The documents posted on this server may contain hypertext links or pointers to information created and maintained by other public and private organisations. These links and pointers are provided for the user's convenience. The Otway Ranges Environment Network Inc. (OREN) does not control or guarantee the accuracy, relevance, timeliness or completeness of this outside information.
Further, the inclusion of links or pointers to particular items in hypertext is not intended to reflect their importance, nor is it intended to endorse any views expressed, or products or services offered, on these outside sites, or the organisations sponsoring the sites. Users access those sites and use those products and services solely at their own risk.