Kimberley Clark Australia is the manufacture of the famous Kleenex tissues brand name. Kimberly Clark's primary business is the manufacture of both facial and toilet paper tissue products for both retail (supermarkets) and industrial markets.
Note: Kleenex manufactured in Australia has not used Australian native forest since 2001. However North American Boreal forests are being clearfell logged on a massive scale to make Kleenex products for the North American and European tissue paper markets.
The Google Earth image below shows Kimberley Clark's tissue manufacturing plant located at Millicent, South Australia (near Mt Gambier).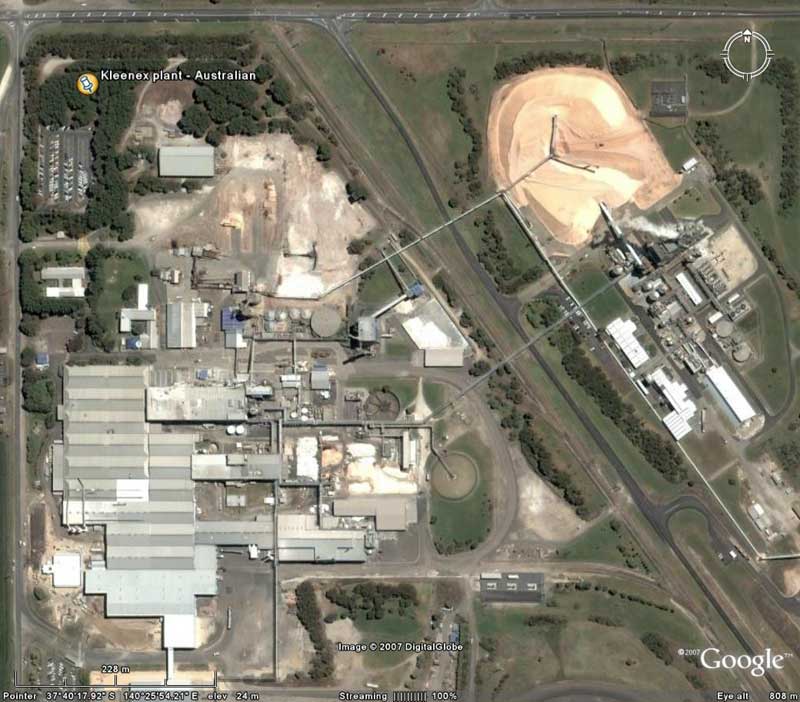 Download Google Earth place mark of the Kleenex Millicent mill
and go there now!
The Millicent manufacturing plant is within an area known as the green triangle, home to a very large softwood plantation as shown in the next image.
Download Google Earth place mark of the Green Triangle Plantations
and go there now!
Most of the raw material to make Aussie Kleenex is from plantation softwood, but a small proportion of the tissue manufacturing process uses hardwood woodchip fibres.
The softwood fibre gives the tissue paper structural strength while the hardwood fibres are used to make tissue products such as Kleenex feel soft, smooth and silky.
In 1996 Kimberley Clark had a licence (Licence No. S000428) to take up to 44,000 tonnes of hardwood woodchips from the Otway native forest each year until June 2001. In the 1990's about 80% of all the forest destroyed by clearfell logging in the Otways ended up as woodchips.

The Google image below shows the relative clossness of the Otways to the Millicent pulp and paper plant.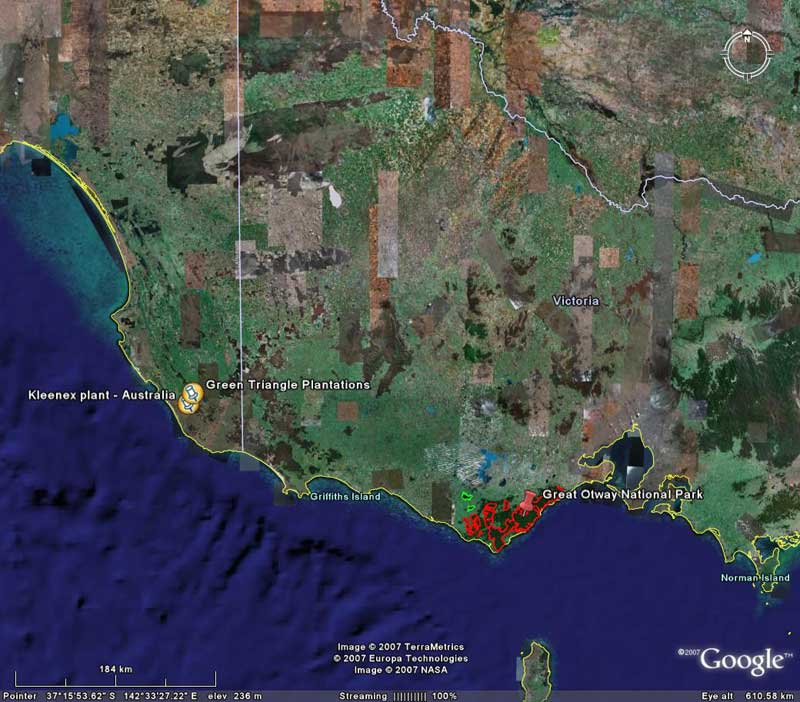 The 1997 image below shows forest that was clearfell logged and woodchipped to make kleenex tissues. This location at TW Spur is within the Cumberland River catchment.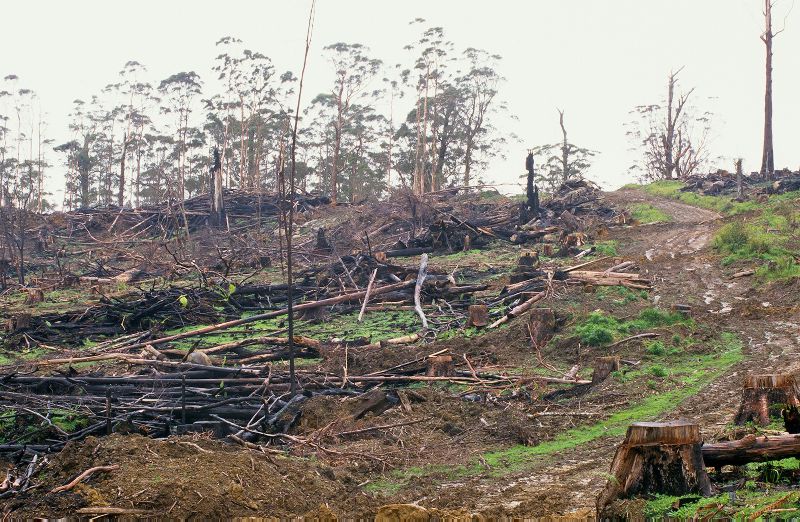 Woodchip logs for Kimberly Clark were first stored in a log dump at the Calco sawmill yard in Colac over summer and then transported to Millicent in South Australia by truck. The Calco log dump was used as feedstock over winter as logging native forest in the Otways was a seasonal summer event from November to April.
Conservationists visited the Millicent pulp and paper plant and took photos of hardwood logs as evidence.
The image below are 1996 photos of former native trees from the Otways at the Calco log dump yard(left) and the Millicent pulp and paper plant(right) waiting to be converted into Kleenex.
1.1 OREN declares war on Kleenex in 1996
The Otways native forest was being clearfell logged and woodchipped to supply the raw material needed to make Kleenex feel soft, so that people can have a luxurious feeling when the wipe their bum. What an unnessasary waste of beautiful native forest!
(Source: OREN Propaganda 1997)
In 1996, Kimberly Clark Australia Pty Ltd was 49.9% owned by the US parent company and 50.1% by a company called Amcor. Amcor at the time had its own paper making plant at Maryvale (Latropbe Valley) in the east of Victoria and today still uses native forests from the Central Highlands to make Reflex copy paper.
At around this time OREN was aware Kimberley Clark in the United Kingdom had made a decision to cancel a contract for Canadian forest pulp with a company called MacMillan Bloedel. The contract was cancelled after the company failed to meets the requirements of an environmental audit conducted by Kimberley Clark in the United Kingdom. This fact gave hope to conservationists in Australian that a similar situation could be achieved for the Otways.
OREN was also aware Kimberly Clark had begun to establish hardwood blue gum plantations in 1991 around its Millicent plant, with the view of sourcing all its hardwood requirements in 15 to 20 years time from plantations once they matured.
However peak conservation groups in Australia argued that they did not see any point in targeting Kimberly Clark as eventually they were going to stop using native forest anyway. So OREN had to take the initiative on its own. As a community group, OREN memebers simply believed it was not acceptable to destroy native forest just for woodchips to make disposable paper products under any circumstances. This was a view also shared with the environment collectives of many Australian Universities.
The only way to test this view was with consumers of the Kleenex products. OREN wanted to see if consumers who where currently buying kleenex prioducts would start to but alternative products if they were made aware of what was occuring to the Otway native forests.