Mitsui Australia buy Otway native forest woodchips from Midway and then export them to the end user, Nippon Paper in Japan. Mitsui is the Japanese trading partner for Midway export woodchip mill.
Mitsui has many other business interests. The profit Mitsui makes from 70,000 tonnes of Otway woodchips per year is a mere drop in the ocean for this company.
Early in 2004, OREN wrote to Mitsui and Nippon Paper asking Mitsui to stop trading Otway woodchips. OREN argued Mitsui is not a good corporate citizen if it continues to buy woodchips from the Otways contrary to State Government policy and local government policy.
Mitsui never responded to the OREN letter. Instead Mitsui handballed the issue to Midway who in turn asked the Victorian Association of Forest Industries(VAFI) to respond on Mitsui's behalf.

The letter from VAFI fobbed off OREN's concerns. (The VAFI responce on behalf of Nippon Paper was the same.)
OREN is extremely disappointed that Mitsui and Nippon Paper could not even be bother to respond to the OREN letter. Mitsui is a company that trades $3 to 4 billion dollars of Australian commodities each year (See Mitsui business interests). Yet this company could not even be bothered to respond in person to the legitimate concerns of an Australian community group that simply want to remind Mitsui that the democratically elected Victorian State government has policies to end logging in the Otways as soon as possible.
In response to this outrage OREN is now expanding its public awareness campaign about Mitsui's role in woodchipping Otway forests, and their other Australian business interests.
Despite huge Mitsui and Nippon Paper plantation interests in Australia, Otway native forests are still being clearfell logged.
OREN challenges the use of Australian university students to promote Mitsui as a good corporate citizen in Australia.
Geelong City Council planning permit reminds Midway to avoid selling woodchips from the Otways to Mitsui and Nippon Paper.
Note: OREN intends to make a Japanese translation of this entire Mitsui website and personally inform Japanese tourists holidaying in Australia at places such as the Gold Coast and in North Queensland.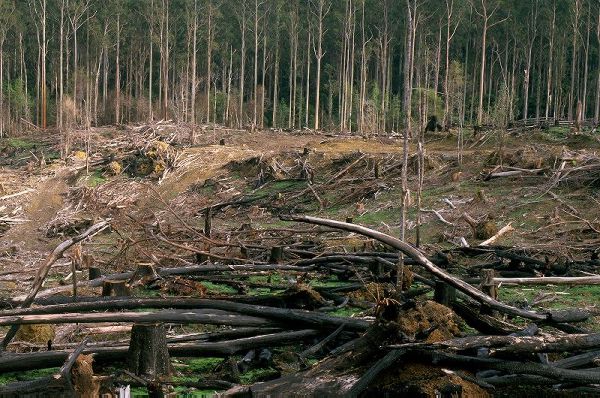 Most of this clearfell logged forest in Geelong's water catchment was exported to Japan as woodchips.