See where logging is proposed in the Geelong water supply catchment
Analysis of the West Barwon Catchment shows extensive logging is planned and has already occurred. By 2010, 20% of this catchment will have been clearfell logged.
Over the past 25 years, 10% of the West Barwon Catchment has already been clearfell logged. Over the next decade logging the RFA logging scenario will increase the rate of logging in the West Barwon catchment and a further 500 Ha (5 square kilometres ) to be clearfell logged. [Link to RFA logging scenerio]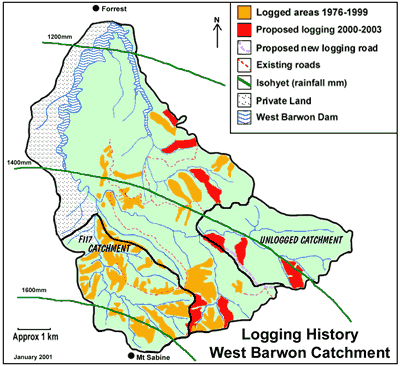 Catchment Area = 51 square Kilometres
Sub-Catchment F117
The 1985 Farrell and Novotony study for the West Barwon shows 20% of sub-catchment F117 was Clearfell Logged between 1976 and 1983 (1)
Sub-catchment F117 has the highest rainfall of all the Barwon water catchment and is predominantly Mountain Ash Forest
Sub-catchment F117 occupies 20% (1003 Ha) of the total West Barwon catchment area (5100 Ha) but would produce a third of total runoff in the West Barwon if all F117 was old growth Ash forest
(1) Department of Conservation Forests and Lands, Research Report 321, Hardwood Harvesting and Water Quality in the Otways. II. West Barwon Catchment (A Major Water Supply For the Geelong Region) Farrell & Novotony.